District Coordinator For School Improvement (DCSI)
Supporting district and campus school improvement efforts and impacting student outcomes.
DCSI Responsibilities
The DCSI oversees the work of school improvement as a required member of the Campus Intervention Team (CIT), leads and participates in the needs assessment, improvement planning, and monitoring processes, and ensures requirements and submissions are completed on time. The DCSI serves as an advocate for the campus, communicates high expectations, a clear vision and focus on learning, a sense of urgency, assures operational flexibility, and coordinates district support to improve campus performance and create the district conditions needed to sustain this improvement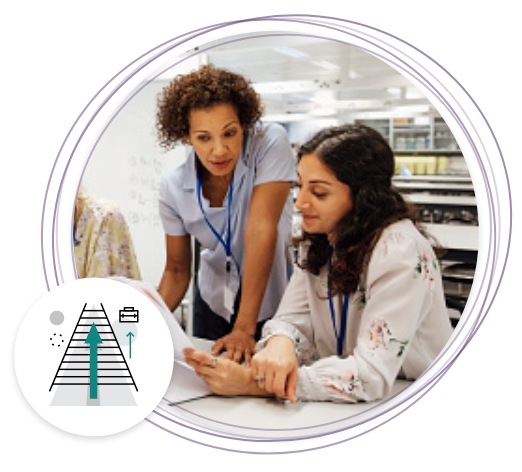 Who Are DCSIs
District coordinators of school improvement (DCSIs) are district‐level leaders, preferably the supervisor of the principal of the Improvement required or Comprehensive campus, designated to ensure support for the academic achievement of low‐performing campuses. DCSIs are responsible for the implementation of all intervention requirements. A DCSI is a required member of the campus intervention team (CIT) assigned to campuses with low performance in the state accountability system as stipulated in Texas Administrative Code (TAC) §97.1063 and/or serves to support schools identified for Comprehensive support under ESSA. The DCSI must be in a leadership position in school improvement, curriculum and instruction, principal supervision, or in another position with responsibility for student performance. Beginning in the 2019‐2020 school year, the DCSI must be the supervisor of the principal at the Improvement Required (IR) campus.
In larger districts, the DCSI may coordinate the work of a team of district personnel charged with school improvement efforts. These team members, like the DCSI, must have direct knowledge of the IR campus and exhibit the same qualities as the DCSI.
DCSI Characteristics:
Accountable for the success of campuses and/or the district in improvement
Expertise in planning, implementing, and managing improvement efforts at the campus and/or district level
Time to effectively fulfill this role as an integral part of his/her responsibilities
Leads all components of continuous improvement processes
Maintains a direct line of contact with the superintendent and other critical district personnel
Holds a position of authority to influence central office departmental procedures
Successful leadership and management experience
Understands current state accountability systems and federal requirements
Acts as a positive change agent, uses failures as opportunities, and celebrates success
Maintains results‐orientation
Promotes the achievement of goals in a spirit of collaboration
Practices strong communication skills
Skilled in data analysis and root cause analysis
Build Capacity
The DCSI will improve and sustain the skills, knowledge, tools, and other resources needed to do their job effectively and efficiently.
Create Network
The DCSIs will understand the value of others serving in the same role and endeavor to assist others in their professional growth. Together, DCSIs will assist, guide, problem solve, provide advice, and drive actions to improve schools by sharing resources, ideas, and connecting with others. 
Lead Change
The DCSI will create experiences for principals that reveal new and improved possibilities. They will also lead and coach principals to drive strategies for change. The DCSI will enable principals to harness school improvement systems grounded in the ESF and EDF to drive school improvement and student outcomes. 
Inspire Growth
The DCSI will gain inspiration and momentum to be an agent of change through coaching and feedback, skill building, implementation of support, and attending training provided by TEA and ESCs to better support ESF & EDF implementation efforts.  DCSIs will gain confidence and the capacity to take action for substantial change in school improvement.
Encourage Transformation
The DCSI will be a trailblazer who facilitates and leads change initiatives by thinking outside of the box and collaborating with principals, superintendents, or other district leaders to create solutions, more equitable learning experiences, and positive change efforts.  DCSIs recognize opportunities for school improvement and act as change agents. 
Learn More
Explore the following resources to learn more about the DCSI Leadership Cohort